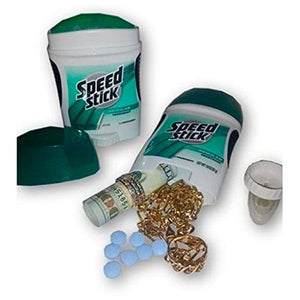 How to conceal your jewelry, money, guns and other valuables
Stashing your valuables is important for your well being. You don't want thieves and burglars stealing your precious jewelry and money. You sure don't want kids reaching out and finding your guns, waiting for an accident to happen, with the guns that you are there to protect them for the first place. And there are other things you want to hide, that it is just important to no one will be able to see them or reach them as they are your own private things. 
We collected here some great DIY and secret compartment products for you.
U.S. PATROL US PATROL HANGING CLOSET SAFE, BLACK, SINGLE SIZE
Well we must conclude that this is the safest and yet the clever way to conceal your valuables at home or even in a hotel! With this US Patrol hanging garment closet, you may safely hold away all the valuables that are locked within the closet. The safe simply hides the nine (9) transparent pockets that contain watches, credit cards and currency protections, or any other item you want to hide. The deeper inside pocket holds all your files and
---
HIDDEN WALL OUTLET DIVERSION SAFE
Would you like to conceal all your valuables in a position not open to the thief? If yes, we've got the best secret wall diversion product safe for you! This product looks just like a regular wall outlet, with a hidden cabinet within the wall. For the sake of cash, credit cards, little jewelry and watchmaking, keys and so many other small things you can use this to add additional protection layer by hiding them from where a robbery can't see. If the keys are missing, the screwdriver will securely open the wall.
---
HOME OR OFFICE PISTOL CONCEALMENT WALL CLOCK
This is an incredible and imaginative two made for you in one service. We have a pistol hide furniture wall clock for use in your home or office, as we are built in such a detailed style. The wall clock concept works round where you can have the portion of hidden pistol safety on the other side of the clock. It looks so exciting! Everyone who looks for it for the first time will think it's just the wall's clock and will go by without finding the secret section. Was it interesting to you?
---
GUN/CURIO SLIDER CABINET COMBINATION
This is a fascinating storage unit which is just as behind the display area of the curio. The Gun Slider Lock in the curio display area has been impressively crafted. Moreover, with the show area as set with the glas shelves, this hidden furniture section will give you. The locking warehouse is at the bottom fence. In this secret compartment you can look at the tempered glass and adjustable racks. This is the pleasant addition to a dining room or living room and an unexploded weapons medium solution. It'll be very helpful to you.
Hide-a-Spare-Key Fake Rock – Looks & Feels like Real Stone
If you miss keeping your valuables occasionally here and there, then here we have the best way for you to hide a fake replacement key in the name of real stone! This is the best secret segment to use right now! You just have to put your replacement key in this true authentic look of the rock on your garden or anywhere in the lawn or just in the sand. It has been set to the simple thing to remove the white cover under the key.
---
Secret Hiding Places: 135 Extra Secret Places Where You Can Hide Your Valuables
Such a creative and fascinating part of the hidden ideas and knowledge box has been launched to make you fall in love with! Design your own container room to conceal all the valuables and documents. This will prove to be easy to do, quick to mount.
---
---
Soft Money leather Belt
The soft money leather belt for use is one of the high quality and sustainable made. It is manufactured in the United States. It has been thoroughly publicized into the actual leather material and consumers need not spend more money buying it as it is already accessible at prices. It has been better made with authentic cowhide leather in the USA and will be very disappointed for fans for a long time. Good quality snaps are set. You will find it very light and easy to use with.
---
Hidden Wallet Discrete Travel Pocket
Review this interesting discreet travel pocket with the secret wallet right now! This is your best gift of Valentine's day! You can use this innovative and secret secret lace polyester wallet to hold your precious stash safely and securely by using women. Any credit cards and cash or jewelry can be hidden as well. You can secure it with velcro in a variety of places using your bra or panty. It is approximately 4.25 inches x 2.75 centimeters long. The weight is really light.
---
Wallet with Secret Compartment and Driver's License Holder
See this awesome secret pocket which is a secret wallet and a driver's license holder! For 100% pure leather, the complete grain design of the wallets has been used away. You're going to love how it feels! The main appeal of this compartment system is its driver license holder, which makes it very classical. You can keep 10+ cards or all your cash in your front pocket. You won't face a dumb bump caused by conventional wallets when you use the back of your pocket.
---
PRINGLES STASH CAN
This is the original stash may piece in its entirety! It can be used to expose the secret compartment as the big practical Pringles can and has been composed with the lower screws. If it's hit and comes with real chips, you'll get the realistic sound. The different flavors will come in the form of various packets for safety and security purposes. You will find it very innovative and very interesting to use this every time, once you start using it!
---
Portable Lip Stick Pill Case Diversion Safe Stash Storage
This is so incredible and innovative storage for you of compact lip stick pill stash! This was fantastic set with the secret storage compartment for you! This is a completely functioning office supplies shop. The stash Compartment Size is approx. 0.70 x 0.70 x 1.75 and it has the wide portable safe with 0.85 x 0.85 x 3.00 overall dimensions. It can best be obtained in four different colors: red, purple, marine and white. Unless the buyer notices a note, the shipping of the color varies
Concealment Picture Frame and Fingerprint Lock
This turns out to be so interesting looking hide and fingerprint frame for your personal use! It is completely fitted in a wall and has a simple way to install. The bracket must only be entered into the opening and the retention tabs must be used. It has also the setting of the flush assembly device that best adheres to the wall for complete concealment using the regular picture frame. Behind the door, you can hide the box and nobody can see it. Now brace yourself to use it!
---
Stuffed Lion with Hidden Opening
It is just a stubborn play toy for your children for some people. But the hidden compartment has also been added to this toy. It's simply the soft fluffy animal, which has the wide internal hiding ability. Animal products can quickly be attached and secured with a zipper and velcro. A reseal can easily be opened if necessary. It could even be with the animal's t-shirt. It suits well inside the animal by covering the secret opening of the Velcro. Moreover, depending on the availability, the shirt may be camouflaged or even white or Tye Dye.
---
Alice in Wonderland – Real Paper Book Locking Booksafe with Key
Here's the animated and so fascinating secret part of the book that locks book safe with a key for you in the form of Alice in wonderland! It has been designed in a compact lightweight style with a solid steel frame. This small lock box reveals much of the look of a hard book. This safe looks 100 percent right from the outside as the popular book. The outside consists of the enduring application of the true paper and the various pages. The solid compact steel shape is secure on the inside.
---
Anti-theft Travel Backpack
A travel backpack of this fashionable and better style is here, serving as an anti-theft for you! This backpack was made up of the anti-theft technology as your hidden compartment. The reverse side of the backpack was covered with the zip of the main pocket. No robbery can open it quickly. It is ideal for holding your precious belongings from the robberies with the hidden pocket behind the bag. It also has an external USB charger and an internal charging cable.
---
PALADONE RUBIKS CUBE SAFE
Have you the ability to solve the cube of rubiks? Perhaps as only the few users know the trick! The best Rubik's Cube Safe is presented here! This is the best way to hide the secret stain in the open room. We will name it the hidden compartment explicitly built to be in the center of the cube. In a specific combination you can simply switch out the three middle layers to access your cash. It was made in high quality plastic, which is so classic and enjoyable to play with.
---
DIVERSION SAFE HAIR BRUSH
With the Stash-it Hair Brush Diversion Safe you can best secretly conceal your valuables. It is a good thing if you have a special safe place to protect all your important items when you walk about in the house or on the road. This brush looks like a brush that you look for for the first time. It can be carried conveniently in your vehicle, bag or purse, just as you can without suspecting or warning theft of valuable articles. This is so awesome and best for your wellbeing.
---
---
HIDDEN STORAGE BOOK BOX HIDER
This is such a creative and inspiring book hider for the use of your study space. You can do this in so many different color shadings, including red, yellow, green, brown, blue, black, gray, white, orange, pink, gold, multicolored, etc. Sustainable wood content has been developed all over long time. It is the best choice for hiding routers, cables, plugs, outlets, money, hidden documents, jewelry, or for covering up other objects. The hidden compartment was designed to make the whole product so interesting to use.
---
STERLING SILVER LOCKET RING SECRET COMPARTMENT GARNET
This ring is so imaginative and secretly hidden from the entry to the compartment. Garnet is the middle stone of the ring that is strengthened. That is the dark red grenades. The rings can be obtained in sizes between 8 and 9. Plus, the size of the external round lock faces was 8.5 mm x 8.5 mm, the interior spacing for the lock is 6 mm x 6 mm and the internal space of thelock faces is 1:4" The entire secret shelter compartments are free of lead and nickel. Since they are sterling silver, not silver or silver.
---
BOOKCASE SECRET DOOR
See this excellent secret library door, which works perfectly as the secret lock for home use. The color teeth that is cherry are the most attractive thing in this secret furniture door. It will be built into the 32′′ x 80′′ standard opening and is based on the hardware's kit accessories and assembly instructions. It is fully installed with simple installation. The bookshelf, with pivot hinge kit and adjustable racks are located right into the kit.
COCA COLA COKE SODA CAN DIVERSION SAFE STASH
Get this awesome and interesting secret room as Coco Cola Coke Soda can distract healthy stash! It is available in many colours, such as red, white, blue, green and orange.
You have to be 18 years of age or older to buy it if you want to buy it. The 12-Fl oz safety stash cans including Cola, Pepsi, Mt. Dew, V8, Dr Pepper, and Sprite are available. Their option is also possible. It's perfect to keep money, or jewellery, medicine, etc. You're able to purchase it?
---
GARTER PURSE, STAYS PUT SILICONE GRIP & 2 SECURED POCKETS
Some of the women with the bag in hand are very heavy on them. We have a Sexy French Lace Cell Phon Garter, which can be hands-free, trouble free, to keep your cash safe and stable. They are built for the thigh region of the body, which will allow you to remain with silicone grabs in one position. For you to walk around while wearing it would be very convenient and simple. You are sure to be pleased! The color is black and was often incorporated into the net content. For the protection of your critical goods you will find it best.
---
---
HIDDEN STASH COFFEE MUG SAFE, STAINLESS
Let's talk about the beautiful nature of this secret coffee bug. Let's talk about it! The stainless steel material for the users is robust. It has the lower-mounted screw and also is great for home and office moving vehicles. It can also be hidden from the naked eye. Simply placed, we call it the True Coffee Mug, with the hidden jar inside to conceal your precious things in full view. You can open the bottom quickly and easily.
---
BEST FOODS MAYONNAISE DIVERSION SAFE STASH CAN W HUMANFRIENDLY SMELL-PROOF BAG
Get your house's best secret furniture cabin as the healthy food stockpile can be! This wonderful commodity of Best Food Mayonnaise is an excellent way to store, or we'd say hide all your products from the naked eye. It is completely different from the real when the factory-stitched jar cover comes about and also twists to expose a large secret storage compartment. The inside of the jar was also remarkable to speak about. The secret safe was made from an initial 16 oz. The entire way.
---
DA VINCI CODE MINI CRYPTEX
---
---
Visit us for more secret storage ideas and secret DIY hiding places at SecretStashing
---